PCTeX 6 is Now Available!
We are proud to announce PCTeX 6 for Windows 2000, XP, Vista, Win 7, Win 8.
Be more productive

Spend more time writing
Spend less time with LaTeX markup

Editor has:

Spell check as you go
LaTeX command completion

Attractively priced bundles, with:

MathTime Professional fonts
Lucida fonts

New Times-compatible math fonts by Michael Spivak of Publish or Perish. The design of this new font set began with user input. more >>
MathTime Pro 2 fonts offer classical math features such as custom designed large parentheses and large operators, separately designed fonts for sub/supersctipts, ... more >>
LaTeX Quick Start guide
A great introduction to PCTeX and LaTeX! more>
PCTeX 6 Bundles
Save 20% by buying PCTeX 6 with another one of our great products! more>
---
Academic Pricing Available for Select Font Sets!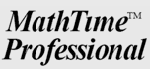 Complete font Set
Academic $79.00
(retail $149.00)



Academic $69.00
(retail $99)